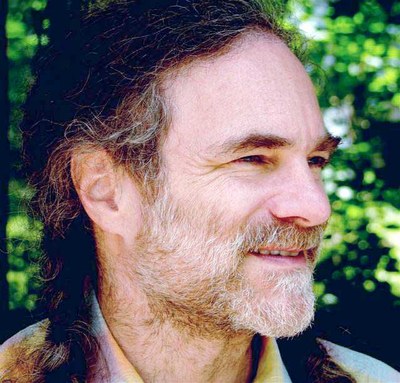 Teacher of Emptiness Design, "Make a Mindful Mark", non-linear non-verbal exercises to open space for creative innovation. Calligrapher, type designer, Irish musician, chef, photographer, humanistic optimist, nature lover. eternal student of whole systems and the nature of consciousness.
About Peter Fraterdeus (b Chicago, 1954)
Two-time US National Endowment for the Arts grant recipient— Calligraphy and Letterform Design (1981), and Digital Type Design (1986).
"We seek to enhance the ability to see not just the object, or the obstacle, and its obvious characteristics, but in the space surrounding, to begin to sense the infinite potential for alternatives and opportunities."— Drawing on Emptiness™ Mission
"You are doing such a lovely job of bringing these important ideas to your workshop participants! I'm sure you will soon be hearing, over and over,'This workshop changed my life!'"— Dr. Betty Edwards (best-selling author of Drawing on the Artist Within and Drawing on the Right Side of the Brain)
Peter created the "Accentuate the Positive" seminars on perceiving 'negative-space' in 2009, now redesigned as "Make a Mindful Mark" using non-linear, non-verbal exercises in perception to open space for creative innovation.
He's taught book arts, letterpress, calligraphy, typography, information architecture, and web design at venues including
Erik Spiekermann's Gallerie P98a (Berlin, 2014) 
Hamilton Wood Type & Printing Museum Wayzgoose (Two Rivers, 2014)
Columbia College Center for Book and Paper Arts (Chicago)
The School of the Art Institute of Chicago (1982-1992)
IUAV (Architectural University of Venice, Italy) (2001-02)
Clarke College (Dubuque)
Colorado College (Colorado Springs) (1991)
and many other workshops and seminars. 
After formal study for some decades of western letterform traditions, including letter carving, type-design and medieval manuscript techniques, Peter has recently returned to the daily practice of calligraphy, turning to the East Asian tradition of China and Japan, studying with Kazuaki Tanahashi, internationally renowned Zen teacher, translator, author, peace activist and master calligrapher.
Received two (US) National Endowment for the Arts fellowships in the 1980s, the first, the "Crafts Apprenticeship Grant"  to study calligraphy, letter carving and design for six months with Ieuan Rees in Wales (UK, 1981), the second, the "Design Project Grant" to research and design a digital typeface for laser printers (1986), which resulted in the first version of his "Prospera" font family, published by his Alphabets, Inc digital foundry around 1989.  
As a consultant for five years at Organic Valley, the leading organic foods distribution and marketing cooperative, he worked with the Executive Marketing Team, Creative Director and IT Team, on web strategy, brand identity and web infrastructure development. Specializing in cross-cultural communication to enhance project success between Creative and IT domains.
Five months study of Calligraphy, Inscriptional Carving and Letterform design in Wales, UK with master calligrapher and letter carver Ieuan Rees, and others (1981)
Studied Calligraphy and the History of Type Design with Prof Hermann Zapf at RIT (1985-1986 Summer Sessions) 
Has been taking photographs since the age of six and watching clouds since before that.
A student of whole systems, son of an architect, long time follower of Buckminster Fuller's work, and the Pattern Language of Christopher Alexander.
Plays and composes Irish traditional music and other folk and contemporary forms on fiddle, tenor banjo, Irish flute, whistles, mandolin and guitar.  
Tweets at @ideaswords (Ideas, Words; Idea Swords)
Instagram @ideaswords
Fonts available at Alphabets.com and myfonts.com
Founder of Semiotx, Inc, communication consulting and strategies, typographic finesse, book design.
Background in Open Source server administration & problem solving, Plone CMS, Linux, Apple OS X 
Has been online since before there was a public internet, and hosting and creating his own and other websites since about 1994.